LET'S MAKE A SPLASH 💦 & RAISE $$$ FOR YOUR CAUSE!
 I Give Clean Water fundraising was created in 2020 as a response to our new digital lifestyles we all are quickly adjusting to provide a way for qualifying community organizations to raise funds for their worthwhile causes. 
Whether you are fundraising on behalf of your school, religious group, sports team, or charitable organization, I Give Clean Water Fundraising is here to help you Make a Splash! 
ALL NEW FUNDRAISING  BOTTLES & BRACELETS EASY AS 1, 2, 3
 Fundraising has never been easier. New contactless Bottles & Bracelets are a fast and convenient way to put I Give Clean Water products virtually in the hands of your supporters. You collect donations and order through your schools digital ordering portal or provide your supporters with your custom ordering code and I Give Clean Water distributes the I Give Clean Water bracelets through the USPS mail.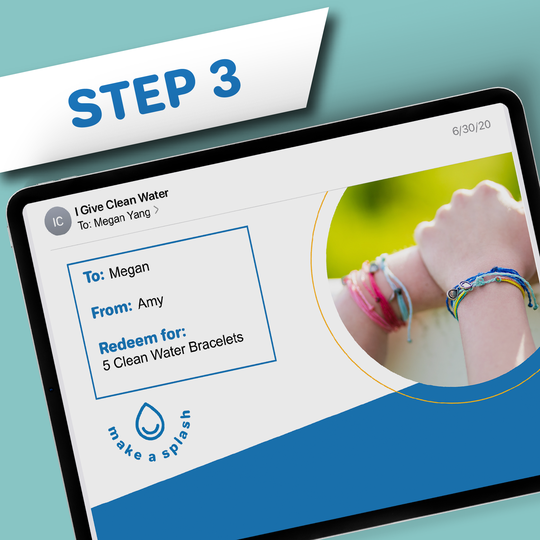 SUPPORTERS RECEIVE THEIR BOTTLES & BRACELETS 
We ship orders daily so your products will arrive quickly.  Once you've collected your orders and funds, purchase your browsing bracelets and we will distribute to your supporters with a personalized note. Organizations can request custom school or company colors as well!

READY TO START YOUR FUNDRAISER TODAY?
 Meet your goals with this easy, contactless fundraising solution. We can't wait to help you Make a Splash!